VERIN AND CHAVES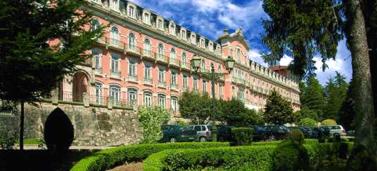 Verin is a little village of the north of Ourense (Galicia).´
This place is known for important mineral water such as souses, cabeiroá, fontenova…
Also it's known for its popular parties such as carnival, magosto….
Because Verin is near the north frontier of Portugal I recommend to do an excursion from Verin to Chaves.
Chaves is located in the north of Portugal in the tourism area known as "alto tamega e barroso". I recommend this place for its monumental-historical building and its wonderful and natural landscape.
Chaves is also known as thermal place with the famous Aqua Flavae, and Vidago´s thermal area with its Palace Hotel(belle époque stile) golf camp and park….
As cultural tourism I recommend to visit "museo da regiao Flaviense", Chaves historical centre…
The gastronomy of Chaves is important overall for its "jamon Serrano" known in all the country, for the "alheiras", meal cake, the feijoada…